Stone Butch Blues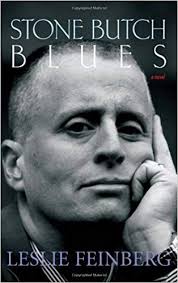 Original title:Stone Butch Blues
By: Feinberg L.
First published in Italy: Il Dito e la Luna Ed., 2016
Genere: Novel, transgender fiction, psychological fiction
Overview: Jess's "journey" through hir identity on the gender borderline, first a woman, then a transgender man. It is also the journey of a community: starting in the 60s, the novel traces, without prejudice, the milestones of gender identity: Stonewall, feminism, the LGBT movement, giving dignity and new meaning to words like butch, femme, drag queen, transgender people, man, woman.
Notes: Stonewall Book Award – Barbara Gittings Literature Award; Lambda Literary Award – Small Press Book Award.