Public Scandals and Private Virtues. From the Dolce Vita to the Convent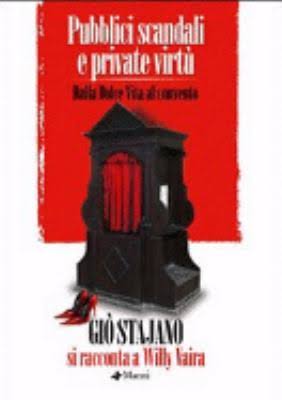 Original title:Pubblici scandali e private virtù. Dalla Dolce Vita al convento
By: Stajano G., Vaira W.
First published in Italy: Manni, 2006
Genere: Biography
Overview: Giò Stajano (1931-2011), one of the most famous transgender women in Italy, told her life story in a long dialogue with Willy Vaira: her golden childhood marked by the strong personality of her grandfather Achille*, the period of the Roman Dolce Vita, between movie sets, via Veneto and nightclubs, when she was a celebrity and became a true and proper gay icon. The book covers Paris with its scandals, gender-affirming surgery in Casablanca, and her life's excesses, such as prostitution and pornographic publishing. It tells of her acquaintances with the world of politics, culture and entertainment, until finally Giò decides to spend her final years as a reserved lady devoted to painting and spiritual exercises, leading an almost Franciscan life in Salento.
Notes: * Editor's note: Achille Starace, secretary of the National Fascist Party